Pengembangan Media Pembelajaran Berupa Alat Peraga Press Hidrolik Sebagai Penerapan Konsep Hukum Pascal Untuk Peserta Didik Kelas VIII SMP
Abstract
This research is here to develop teaching media for the application of Pascal's law and to determine the feasibility of hydraulic press teaching aids. The development model was adapted from Sugiyono's research and development model. The subjects of this study were 8thgrade students of SMP Negeri 6 Mesuji Makmur. The result of the development was a simple hydraulic press from the application of Pascal's law concepts. The development step was determining the potential and problems, data collection, product design, product validation, design revision, and product testing. Based on the results of the assessment, this hydraulic press teaching aid with Pascal's law concept got: 83% scores from material experts, 88.3% scores from media experts and 86.5% from student response questionnaires. From the results of the study, it can be concluded that the development of learning media for hydraulic press teaching aids with the concept of Pascal's law for 8th-grade junior high school students is very feasible to use.
Downloads
Download data is not yet available.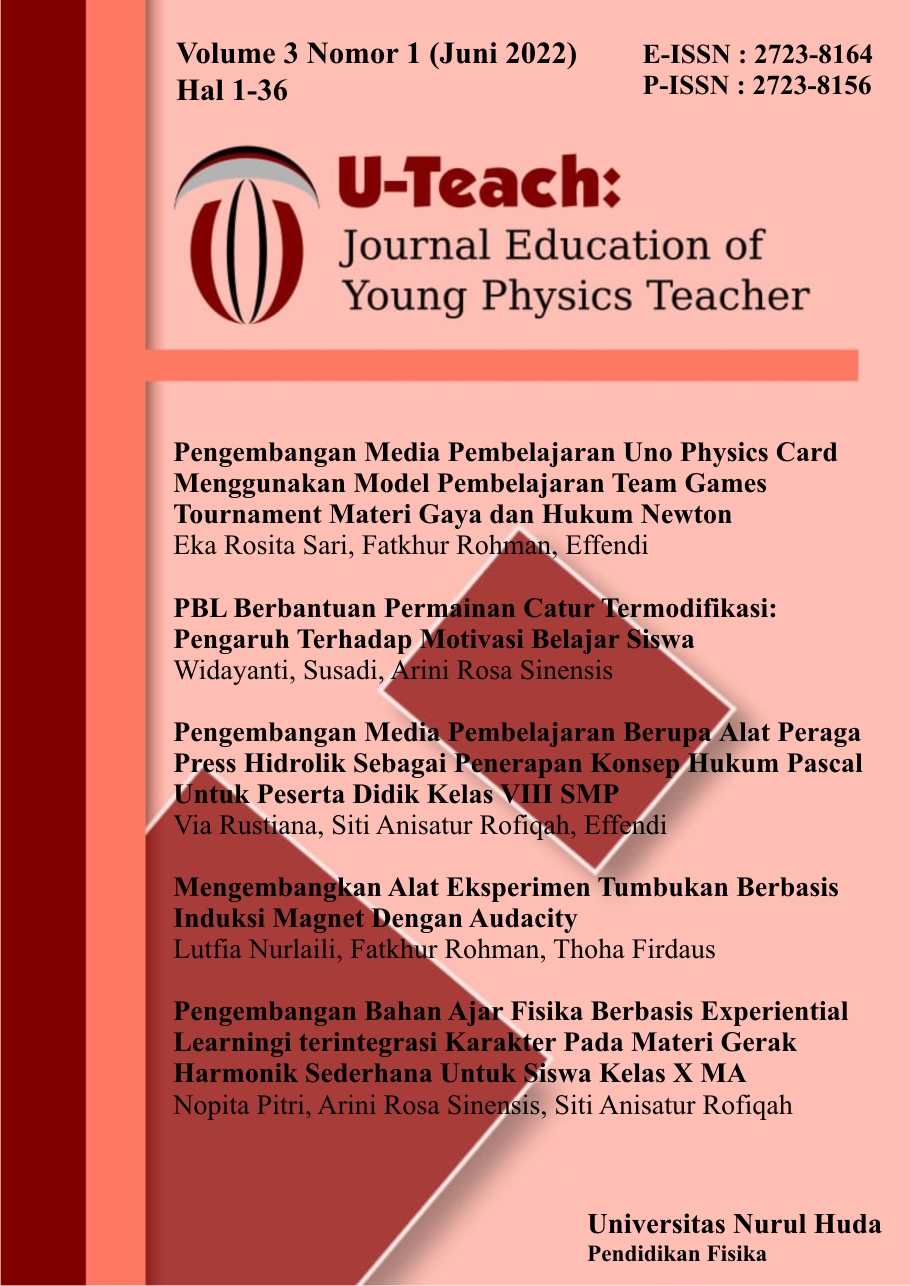 Downloads
How to Cite
Rustiana, V. ., Anisatur Rofiqah, S. ., & Effendi, E. (2022). Pengembangan Media Pembelajaran Berupa Alat Peraga Press Hidrolik Sebagai Penerapan Konsep Hukum Pascal Untuk Peserta Didik Kelas VIII SMP. U-Teach: Journal Education of Young Physics Teacher, 3(1), 13–19. https://doi.org/10.30599/uteach.v3i1.47
License
Copyright (c) 2022 Via Rustiana, Siti Anisatur Rofiqah, Effendi Effendi
This work is licensed under a Creative Commons Attribution-ShareAlike 4.0 International License.

Abstract Views: 0 |

File Views: 0